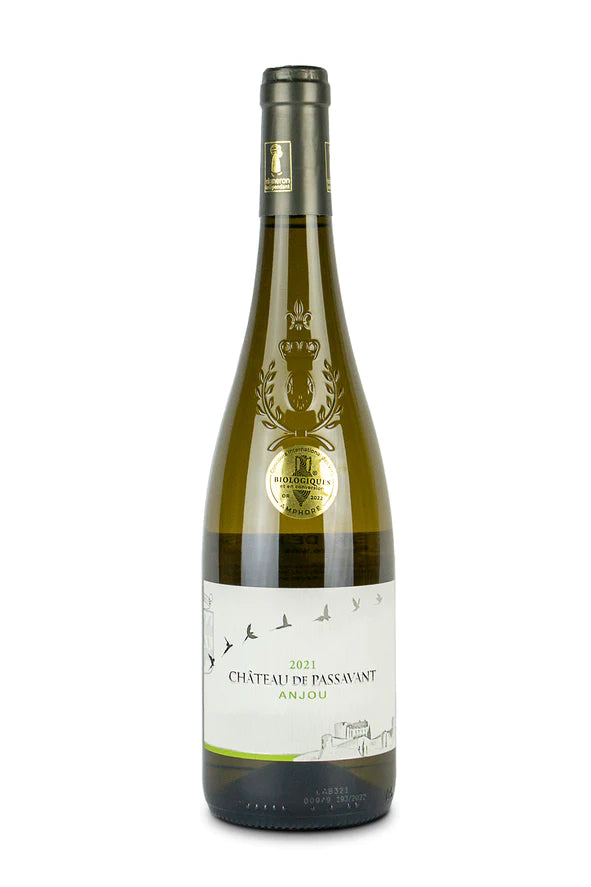 Chateau de Passavant Anjou Blanc
Tasting Notes: Chateau de Passavant Anjou Blanc is made of 100% Chenin Blanc that is vinified dry to create a crisp and refreshing selection. The bottle opens with entrancing aromas of peach and apricot. On the palate, flavors of yellow apple mix with a beautifully concentrated minerality that takes center stage without overpowering the fruit. This wine is spectacularly bright, with invigorating freshness and a delicately spicy finish. It is reminiscent of a fine dry Vouvray, but without the expensive price tag.
With a history dating all the way back to 928, it's fair to say that Chateau de Passavant is a historic estate. The current winery was founded in 1900, when Jules Falloux bought the Chateau and began revitalizing the vineyards. Since 1993 the estate has been managed by Claire Lecomte, Olivier Lecomte, and Francois David. In 1998, the group began the process of converting to organic and sustainable agriculture. These choices are guided by a will to work in harmony with their environment while still creating high-quality wines. The vineyards are run with biodynamic practices, including natural hedging to reduce pests, natural treatments for disease prevention, and a flock of sheep to manage weed growth.